About Us
Ergo-Léman is a paediatric Occupational Therapy service located in the french-speaking region of Switzerland along
"La Côte" of Lake Geneva.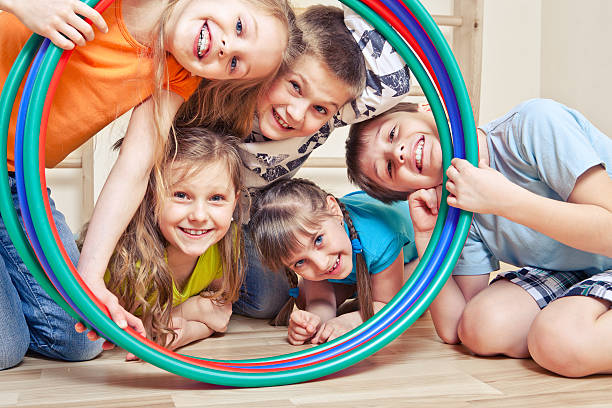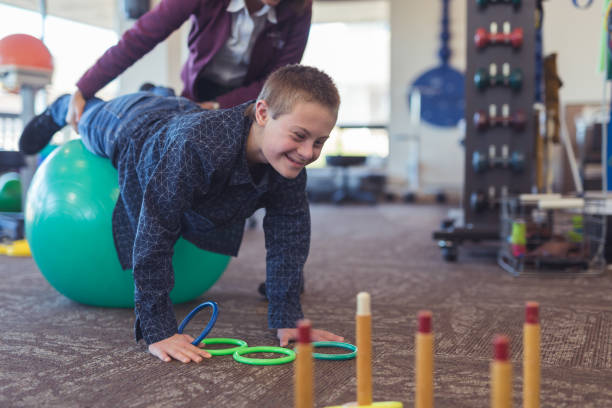 Our Story
Our paediatric Occupational Therapy services first started part-time, in Gland, in 1995 with one english-speaking therapist. In 2006 a second centre at Coppet was founded. By 2014 we had grown to 5 therapists and Ergo-Léman became a specialised service for children, headed up by Kristine Jaccoud and Vera Popovich. In 2022 the team consists of 9 occupational therapists from Switzerland, France, England and Australia.
Ergo-Léman at Coppet
Renovated in 2019, our office at Coppet is a purpose-built occupational therapy space with 4 therapy rooms, a reception area and kitchen which is also available for therapy use. Our premises are fully wheelchair accessible, with an adapted toilet and baby change facilities.
Our Coppet office is situated at Les Toises, just off the Route de Tannay, and is a 10-minute walk from Coppet train station. Free parking is available in the blue zone area next to the cabinet.
We currently have 5 therapists.
Languages spoken: French, English, Italian.
Address : Les Toises, 5 chemin du Signal, 1296 Coppet
Telephone : 022 776 81 22
Ergo-Léman at Gland
At Gland we have three treatment rooms, a small reception area, and one shared WC. Our premises are located on the ground floor and are wheel-chair accessible.
We are situated on the Rue Mauverney, directly opposite the Migros supermarket. It is a 10-minute walk from Gland train station. Local buses run along the Rue Mauverney, with stops close by.
In addition, 3 parking places are available for our clients, directly in front of the cabinet. Otherwise there is underground parking (blue disc required) under the Migros.
We have 4 therapists.
Languages spoken include French, English, German.
Address : 12, rue Mauverney, 1196 Gland
Téléphone : 022 364 50 30
What does occuptional therapy do?
Occupational therapy helps your child to do the things they want and need to do.
That could mean helping your child overcome challenges learning at school, playing sport or playing with other children.
An Occupational Therapist looks at how a child performs activities (occupations) and works out how best to help them learn, have fun, socialize and play – so they can develop, thrive and reach their potential.
It's a science-based, health and social care profession that's recognized and regulated.
Expertise within our team …
Our team is made up of qualified occupational therapists from Australia, England, France and Switzerland.
Our expertise includes, but is not limited to, the following :
ADHD; Autism; Developmental Delay; sensory integration and handwriting
ABC Boum multisensory approach to handwriting
Accompagner les enfants autistes dans les habilités sociales (Richoz & Rolle)
AEB Certificate in Counselling Theory and Practice
Assessment of sensory processing
Ayres Sensory Integration and Praxis Certificate (SIPT)
DIR Floortime (R)
La méthode SAS (sviluppo abilità sociale = Social Skills Training)
Modératrice des cercles de qualité (SSMIG) (Quality Circles Moderation)
PiFAM "Programme d'Intervention sur les Fonctions Attentionnelles et Métacognitives"
Seeing my Time (R) – Executive Functioning Help
Social Thinking (R)
SOS Feeding (R)
TEACCH Autism (R)
Zones of Regulation (R)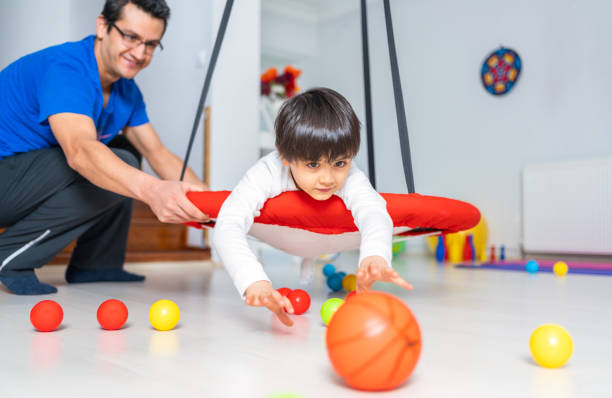 Frequently Asked Questions
How many sessions are prescribed for the initial evaluation?
The doctor can prescribe up to two sessions for an evaluation. This must be prescribed no longer than 2 months before the start of an evaluation.
When will I need another prescription?
A new prescription is required for each series of 9 sessions and should be provided before the end of the series of 9 sessions to allow time for administrative processing.
How do I know if the health insurance will cover my child's occupational therapy treatment sessions?
Once the prescription is received by your child's occupational therapist, it is forwarded to the relevant insurer for notification and to request that they cover the costs of therapy. A swiss insurance company has 10 working days in which to refuse cover. Tacit approval for the costs of therapy is implied, if no reply is received.
For families with international health insurance, it is advised to check you cover before starting the assessment and/or therapy
The overall duration of cover by the insurance company can be limited. When treatment needs to be prolonged the insurer's advising doctor may require additional information, such as a report.
Do I need complementary health insurance?
No, as occupational therapy ("ergothérapie") is normally covered the basic Swiss sickness insurance ("assurance maladie"), as determined by the LAMal (Loi fédérale sur l'assurance-maladie). It is also usually covered by most international health insurances, such as CIGNA, UNSMIS.
Can I get a breakdown of costs? Why am I billed for "time spent in the absence of the patient"?
You are billed according to the national tariff set by santé Suisse. This invoice will include time spent with the child as well as time spent in related tasks such as preparation, scoring, writing up the report, writing notes, discussion or meetings with parents or other professionals.
My child has been having occupational therapy in another country, can s-he start sessions straight away
If your previous report is less than two years old, it may be possible to begin therapy without further assessment. We would still like to meet with you to discuss therapy goals and meet your child.
How long does my child need to do therapy for?
This a very difficult question to answer! It depends on the child, but therapy might be needed for between 9 sessions (weeks) and 2 years. In some cases, the child is followed for many years for changing and different goals.
Does occupational therapy work?
Occupational therapy is a century old science-based profession firmly rooted in evidence-based practice, applied using a combination of science, creativity and fun. Our therapy goals should reflect your family's needs and be realistic and attainable and reviewed at regular intervals. So, yes, it does work!
Will I be charged for missed sessions?
If you cancel a session with 24 hours' notice or more, you will not be charged.
For further information check Ergo-Léman cancellation policy.
I already have a prescription, can I be seen any faster?
Due to the wait list it is best to wait until you have an assessment date before requesting a prescription.
If I pay myself, rather than through health insurance will it be any quicker?
No, we see children in chronological order of referral, whatever the payment method.
Why does it take so long to get an assessment?
The assessment process is very labour-intensive and takes around 10 hours in total (including preparation, assessment, scoring, writing the report and providing feedback to parents.) All our therapists provide regular therapy as well as assessments, which results in a long wait for new assessments.
I already have a psychologist's/neuro-pediatrician assessment, why do I still need an OT assessment?
Every professional has their own specific assessment, including occupational therapy. Whilst information from other professional assessments is very helpful and informs our reports, we do need to do our own assessments to provide a baseline and understand the child from a functional perspective. Health and social insurances also require an assessment to justify occupational therapy treatment.
Can you see my child before or after school?
There are a limited number of therapy sessions at 8h or 16h and on Wednesday afternoons. We tend to reserve the later sessions for older students. Otherwise therapy is provided during school hours at a mutually convenient time. We can provide a certificate of attendance for the school if required.
How often should my child go to therapy?
We would recommend a minimum of once a week, sometimes twice a week. Less than this is limited in effectiveness.
My child has a severe disability – how can you help?
It can be difficult to know where to start, your therapist will help guide you to decide on functional goals and priorities for your child's and your well-being. Start by asking: what the most important issue is for your child right now?
What can I do to help?
I am glad you asked! Therapy is not a magic wand, but is magical if everyone works together towards the same goals

Ways you can help:
Take care of your child's basic needs – children need routines, adequate sleep, healthy food and lots of physical play and mental stimulation
Children need adequate sleep to function well – The National Sleep Foundation (USA) recommend 11-14 hours for children aged 1-2; 10 – 13 hours for children aged 3- 5 years; 9-11 hours for children aged 6 – 13 years; 8 – 10 hours for children aged 14 – 17 years and 7-9 hours for adults.
The World Health Organisation recommend that children should do at least an average of 60 minutes per day of moderate-to-vigorous intensity, mostly aerobic, physical activity, across the week. This should incorporate vigorous-intensity aerobic activities, as well as those that strengthen muscle and bone, at least 3 days a week.
Limit screen time – follow the 3-6-9 rule (https://www.3-6-9-12.org/)
Be positive towards your child – reward effort rather than results.
Make it matter – your child will feel that their work is important if you do.
Try to be patient – your child is in therapy because they find something difficult and have done for a while, it is not likely to change overnight.
Aim for "good enough", rather than perfect!
Provide a safe space to experiment and make mistakes.
Try to separate the child from their behavior; love the child if not the behaviour.
Nothing helps new skills develop more than practice, practice, practice!
"Our daughter always went with a smile on her face and never saw it as hard work. It is incredible how much she has improved."
"I have noticed a real improvement in the clarity of our son's letter formation and also greater ease at manipulating the pencil. He is also more confident about showing his written efforts to people."
Rue Mauverney 21
1196 Gland
Chemin du Signal 5
1296 Coppet